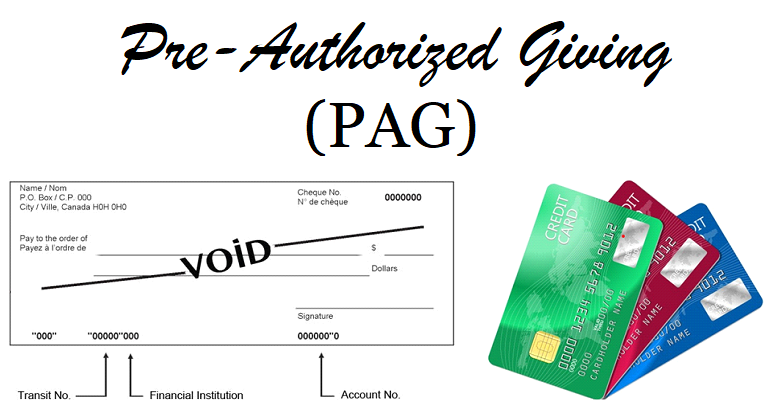 WHAT IS THE PRE-AUTHORIZED GIVING PLAN?
The Archdiocese of Toronto has established a Pre-Authorized Giving Plan to assist you in your support of the work of St. Aidan's Church through your regular parish offerings (not including special collections).
The work of our parish is made possible through the giving hearts of our parishioners. In response to changing lifestyles and demands on time and energy, the Archdiocese of Toronto seeks, through Pre-Authorized Giving, to assist you in your giving.
Pre-Authorized Giving creates a win/win situation for you and St. Aidan's Church. It's a very simple procedure. When you participate in Pre-Authorized Giving, your offering will be withdrawn from your bank account on or about the 20th day of the month. This amount will then be deposited to the Parish's account.
WHY SHOULD I PARTICIPATE?
Advantages for the donor:
Convenience. Your offering is received automatically every month.
Continual support of your home church when you are away.
Advantages for St. Aidan's Church:
Regular, dependable flow of contributions to the parish.
Reduction of paperwork and bookkeeping
HOW DO I ENROLL?
Decide on the amount of your monthly contribution to the Parish to be withdrawn from your bank account each month.
Fill out, sign, cut out the Authorization Form, and attach a cheque from your account marked "VOID".
Bring or mail both the signed Form and a voided cheque to the Parish Office.
WHO LOOKS AFTER THE PLAN?
The Office of Stewardship and Development of the Archdiocese of Toronto administers the Pre-Authorized Giving Plan for the parishes.
HOW WILL PRE-AUTHORIZED GIVING REPLACE MY CURRENT GIVING?
Those that already have offertory envelopes and have enrolled in the Pre-Authorized Giving program will not require their envelopes for Offertory giving. However, you will continue to receive a supply of envelopes in the event that you wish to supplement your offering with an additional amount. In addition, special collections will continue to be administered in the same manner.
CALCULATING THE MONTHLY PREAUTHORIZED GIVING
To help determine the amount of one's monthly deduction, the following calculation is presented as an example and guide. (Note that Special Diocesan collections have not been included in the calculation.)
Offertory:
Average of $15/week X 52 weeks = $780
To calculate the monthly pre-authorized giving:
Divide $780 by 12 = $65 per month
CONFIDENTIALITY & SECURITY
The confidentiality and security of your personal information is extremely important to us. Our parish and the Archdiocese have taken appropriate measures to protect the security of your personal information. To assist, please make certain your enrollment form and void cheque are placed in a properly sealed envelope and placed in either the collection basket or mailed to the Parish Office.
For further information concerning the Pre-Authorized Giving Plan in our parish, or to sign up, please contact our Parish Office.
St. Aidan's Church
3501 Finch Avenue East
Scarborough, Ontario M1W 2S2
Telephone: 416-494-2704
Fax: 416-494-3160
Download our St. Aidan's Parish PDF Form HERE.
Download the Archdiocese of Toronto PDF Form HERE.
---
HOW TO DONATE ONLINE
There is an online "DONATE" link that can be found on our parish website. Just click on the "DONATE" button at the top page of any of our website pages.