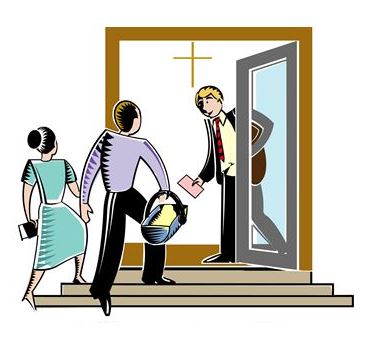 ---
Mission:
Greeters & Ushers serve the parish by helping to establish a climate of welcome and order among those gathered for Mass so that the Sacred Rites can be celebrated with ease and grace.
Activities/Explanation:
Arrive early with appropriate attire.
Welcome parishioners as they arrive, being attentive to newcomers, children, the elderly, and those with special needs.
Help the congregation by handing out hymnals, receiving the collection, seating late arrivals and persons with disabilities, and arranging the orderly receiving of Holy Communion.
Ensure that a family/group has been designated to present gifts.
Carry the collection up when gifts are being presented and ensures its security.
Carry the collection in pairs to the counting room.
Assist with the orderly departure of parishioners.
Meeting Frequency:
Weekly as assigned for weekend Masses.
Meeting Location:
Parish Hall or one of the parish meeting rooms.
For more information contact:
George Fernandes (Telephone: 416-493-0016)