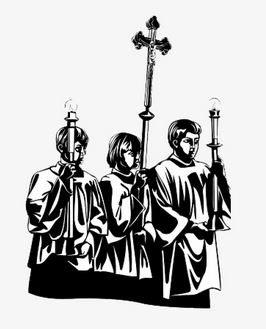 ---
Mission:
To assist the priest during celebration of Holy Mass.
Activity/Explanation:
Assist with preparation of the sanctuary before Mass.
Organize and care for the sacred vessels before and after Mass.
Manage various items used in the Mass (cross, candles, incense, sacramentary, etc.).
Prepare the altar or assist in doing so before the presentation of the gifts.
Ring the altar bells.
Carry books and other altar accessories as needed.
Respond responsibly to special circumstances that may arise during the Mass.
Perform special tasks with dignity and participate fully as an exemplary member of the assembly.
Meeting Frequency:
Serving at Mass as per assigned schedule.
One-hour rehearsals two or three times a year.
Meeting Location:
For more info contact: